Scotland.JS 2013 in Edinburgh
I got to spend Wednesday through Friday in Edinburgh last week to attend Scotland.JS. Edinburgh is a lovely city and I will definitely return to get to know it better. It has great people, beers, food and even a castle - what could one want more?
I arrived on Wednesday, just in time for the TechMeetup. It took place in the Appleton Tower and had about 70-80 attendees with quite diverse technical backgrounds. I had a very interesting talk to a freelance patent attorney and also met a couple of people I knew from recent conferences and meetups in Berlin. After we were out of free pizza and beers we met most of the Scotland.JS attendees in a pub right next to the Appleton Tower. Cue more beers and tech conversations.
Thursday was the first day of Scotland.JS that started with a great keynote from Jan Lehnardt. The most memorable talk of the day was about Functional Reactive Programming using Bacon.js by Philip Roberts. There of course were a lot more great talks but the possibilities of creating and combining event streams kept my head spinning the most. At the end of the day we again went to a neat pub near the venue and I headed to bed rather early, still a little tired from travel and the day before.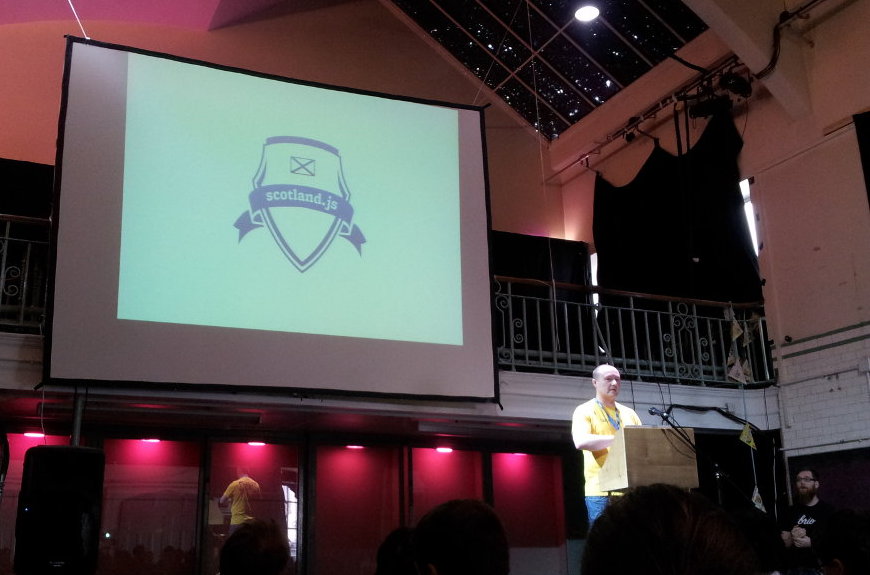 Friday started with a short 20-minute walk through Edinburgh's old town that I needed to pass on my way to the venue. My favorite talk of the second and last day was held by Dominic Tarr that tought us about the internals of leveldb. I also really enjoyed Mark Boas talking about making audio a first-class citizen of the web - a very entertaining and impressive mix of technologies. A GitHub drinkup in the venue's own pub was a great way to end the conference - lots of good conversations with Scotland.JS attendees and speakers as well as people from the local tech community and visitors of the Scottish Ruby Conf.
I flew home the very next day and already miss Edinburgh with its neat little alleys and pubs everywhere. The JavaScript community has once again shown its value as a very interesting mix of nice welcoming people coming from so many different technical backgrounds. Like after most conferences I feel a little exhausted and my head is full of ideas for future or current (side-)projects. I will try my best to return next year, it has been a lot of fun!